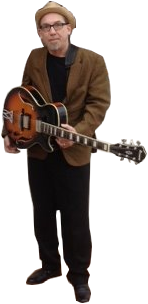 Ray is a Texas born guitarist who was raised in Louisiana..
Having grown up there Ray was exposed to all the rich musical heritage that is the gulf coast sound..Jimmy Reed..Lazy Lester…Guitar Slim..Silas Hogan and Swamp pop legends Cookie and the Cupcakes. Ray was influenced by Magic Sam ..Guitar Slim…Eddie Taylor..T-Bone Walker..Otis Rush..Freddie King..B.B King.. Albert King.. Anson Funderburg …Jimmy Vaughan.. Buddy Guy and Lightning Hopkins .
Moving back to Texas in 1992 Ray started his own band 'Little Ray and the Blues Sonics and released two Cds for the Great Blues label…"Hot Rod Blues" and "Going back to Eunice".. The band played up to 200 shows a year and were a regional favorite opening for such acts as Omar and the Howlers..Tab Benoit..Mason Rufner..Smokey Wilson ..Ray has shared the stage with many blues greats such as Lazy Lester..Lonnie Brooks..Long John Hunter..Barbara Lynn …Uncle John Turner..Alan Haynes… Nick Curran…. Brian Templeton..Sonny Boy Terry..Paul Orta and Milton Hopkins to name a few….Ray held down the guitar duties for Houston harmonica ace Sonny Boy Terry for 9 years and can be heard on the acclaimed live album "Live at Miss Ann's Playpen". Ray has played on various CDs by Paul Orta. "Objective Lune…"Shuffle with Lester…and The Uncle John Turner CD "Hurricane Rita Blues". In 2010 Ray was asked to play on acclaimed Austin TX. and former Solid Senders front man Spencer Thomas's solo release "Gulf Coast Charm" for the Great Blues Label.
Ray has toured with bands .Paul Orta and the Kingpins …The Brian Templeton band…Lazy Lester and Sonny Boy Terry. Having played every Juke Joint on the gulf coast having toured Europe and the Midwest, Northeast …Ray has brought his brand of blues to many people and received high praise along the way….Ray is currently working with Paul Orta in his full band and as a duo act …Their new CD 'Backporch Blues" features Ray and Paul Orta ..with Ray holding down all the guitar and drum work at the same time!….Its raw and played the way old school blues should be played from the soul ..From Uptown Jumps to the Down Home Truth"….Ray is true to his roots…