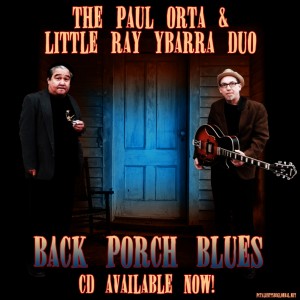 PAUL ORTA & LITTLE RAY YBARRA DUO: Back Porch Blues
Blues International BI 2002 (40:00)
Big Boss Man/ Who Do You Love/ Rock My Soul/ Don't Start Crying/ I Ain't Got You/ Tribute To Big Walter/ My BeBop Gal/ Baby What You Want To Do (sic)/ I Can't Believe My Eyes/ Rock Me Baby/ Hoochie Coochie Man/ Boogie Till You Drop.
When it comes to in-the-alley, lowdown blues, Paul Orta is the go to guy, the Port Arthur native has been on the local blues scene for decades, with over a dozen releases to his name. For his new release Paul Orta has stripped his approach down to just his vocal and harp (with the added harp of Dan Moser on a couple of cuts) and Ray Ybarra (guitar, kick drum, hi-hat). This joint enterprise was recorded at Great Recordings Studio in Port Arthur. With a mix of originals and covers, Orta and Ybarra have cut an album that Orta regards as traditional blues.
Opening with a knock down-drag out take on 'Big Boss Man' (with Jes Doll banging the tambourine), Orta's blues harp wails mightily and Ybarra keeps the rhythm solid. Next up, a raucous 'Who Do You Love', Orta yells the vocal and blows the back off the harp, Ybarra keeps a solid rhythm on kick drum and hi-hat, like Joe Hill Louis on Buckfast, while banging out the guitar part, nice cut. Track three is a classy Orta original titled 'Rock My Soul', followed by a supercharged take on Slim Harpo's 'Don't Start Crying'.
'Tribute To Big Walter' is (naturally) a harp feature, when Orta showcases his harp playing he really is a superb, if somewhat unsung player who deserves a bigger reputation. 'My BeBop Gal' (Doctor Ross) really gets in the spirit of the Ross sound, with crashing hi-hat, thumping kick drum, tough vocal and big harp sound. 'Baby What You Want To Do' is firmly in the Jimmy Reed tradition, while 'I Can't Believe My Eyes' is in a Wolf bag with lashings of high-octane blues harp. 'Hoochie Coochie Man' is a fairly straight-ahead version, however this Willie Dixon classic is given added piquancy with the addition of Moser's second harp, and the set closes with a Slim Harpo-styled boogie original titled 'Boogie Till You Drop'.
In the current atmosphere of over-cooked recordings, some artists tend to forget the sound and origins of good old-fashioned rootsy blues. This recording is raw, lowdown, and dirty, I'm a fan of Paul Orta, never been disappointed by his releases in the past, and this is one of the best. A five star release any way you look at it. And full marks to Little Ray who never puts a foot wrong all the way through.
Phil Wight
Blues & Rhythm Magazine (UK)